So I'm as sick as a dog (what exactly does that mean anyway? I've never seen a dog hacking and coughing or sleeping with a tissue stuffed up its right nostril like I did last night).
First order of business this morning, after clearing my nose and throat of about 4 pounds of snot, was going to the Korean market down the street and buying up their entire stock of chicken noodle soup. I had the childhood favourite, Campbell's Chicken Noodle soup for breakfast. The noodles were a little bloated and soft, but honestly, when you are sick and wanting comfort food, nothing works like a huge spoonful of those gelatinous, squishy worms.
I moved on to Progresso's Chicken with Barley for lunch. I was so bloated from the 7 mega mugs of tea that I actually took a slotted spoon and forewent (is that a word?) the liquid. Not quite as comforting as the whole pasta deal, but the wee pearls of barley really were pleasing. I still have a can of Progresso Chicken with Rice and Homestyle Chicken Noodle, but I'm so sick - not from the cold...of soup - that I'm venturing out for a burger and spicy fries at Burger 67.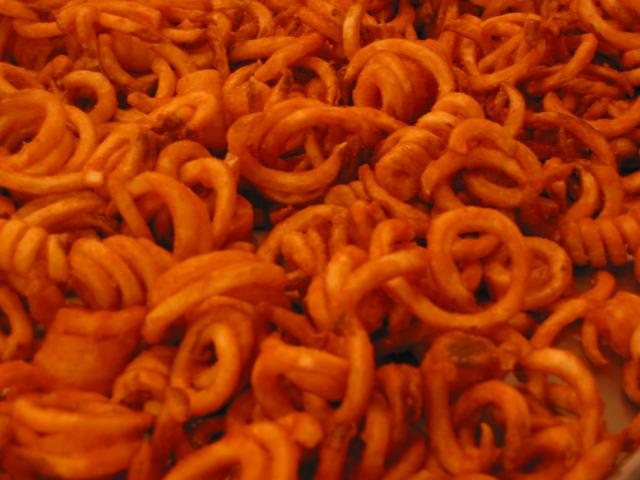 Sujay says they are the best fries ever, so I'm going to challenge his claim. They will have to be spectacular to outdo Barney's curly fries in Oakland. Gotta run - literally, my nose is running so I have to go.
Yeah, so the burger joint was closed. What, Brooklynites don't eat curly fries on Mondays? I had to go to the Irish pub on the corner - the one to which I will never be returning. The staff is cold, no one watches anyone's back behind the counter, there's a whole lot of "uh, not my problem" back there, and my to go order took 35 minutes (though I did get some good Rugby watching in, I was getting pretty pissed), when I finally got my food - that I had to remind them about - my fries were soggy since they were sweating next to the burger in the go box on the counter for fifteen minutes. I asked them to redo my order. The guy next to me was right in his assessment. "The food is good, but the service sucks." Too true, and folks, I can get good food anywhere in a three block radius around here.